ModAvia Ltd.
We are a manufaturer of world class model planes for airlines, collectors, toy & souvenir wholesalers / retailers
---
Our models are simply 'World Class'. We are an international manufacturer of model aircraft on fine desk stands. All models are hand made and produced purely from wood; unlike easy-to-break plastic models. We only use wood from re-forested areas! The paint finish is done by artistic hands, very accurate and flawless. We specialise in custom designs, especially with individual color schemes, logo, etc. !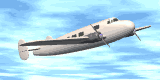 Production
Beneath, please see a few thumbnails of our big collection. To enlarge the thumbnails, please click on them
A model receives its basic paint:
Skilled, artistic hands finish the plane markings, logos and paint design:
Volume orders are getting ready for shipment:
We certainly also do special requests and custom designs, as these 8 foot long Titanic models show:

We execute single and volume orders alike. Please e-mail us for any query or question you may have. We gladly entertain every inquiry!
All our models are custom made!!